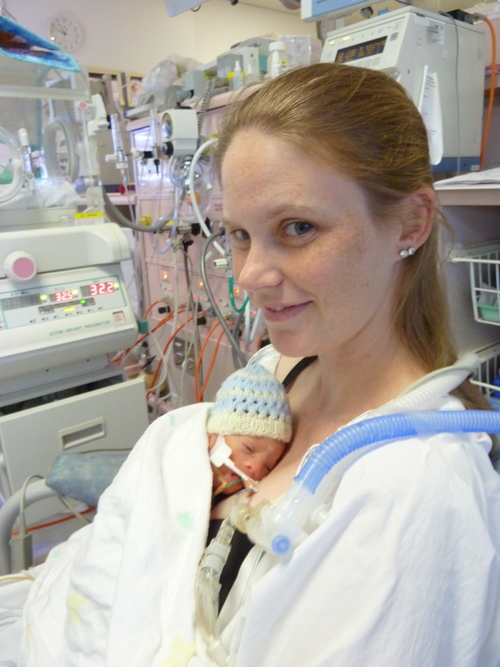 Our lives were thrown into chaos when our fourth baby arrived at just 25 weeks gestation, weighing 865g.  Sent to KEMH hundreds of kilometres from our home in Australind, just days before his birth, our family was suddenly torn apart and that's the way it would stay for almost 4 months.
Adison had a long journey through NICU complicated by chronic lung disease, infection, brain bleed, hernia and other general prem related issues.  It took a long time, weeks, for the Doctors to decide he was stable.  It was 18 long days before his first cuddle and months before he met his siblings.
As a Mum to three other children it was heart-breaking to have to choose between my sick baby in hospital and my 3 healthy children at home in Australind with their Dad, who was still working.  This is no choice a parent should be faced with.
Adison came home 2 days before his due date having made remarkable progress at the very end of his 100 day NICU stay.
Around 6 weeks after coming home, it was revealed that Adison was in the preliminary stages of heart failure.  He had left the NICU with a patent ductus arteriosis (PDA) which had now caused pulmonary hypertension. Still a tiny 4.5kg, Adison was admitted to PMH for a thoracotomy and PDA ligation.  Adison's Dad and our other children were home in Australind and again I was faced with this confronting situation alone.  Adison came home on a hospital apnoea monitor and nocturnal oxygen that continued until he was 18 months old.  Damage had been caused to his lungs and he required additional support whilst sleeping.  He was also having regular apnoea due to a premature central nervous system.
In spite of the labels that follow Adison around the medical world, chronic lung disease, cerebral palsy, hypotonia, verbal & oral dyspraxia, dysarthria, sensory processing disorder, at almost 4 years of age, he is an amazing, bright, confident little boy who's catching up, every moment of every day.